ISLAMABAD/LAHORE/KARACHI: Educational institutions across Sindh, Punjab, and Islamabad will remain closed on Monday after the government's attempt to disperse protesters ended in deadly violence and raised law and order concerns in several parts of the country.
Protesters have been camped for the last three weeks on the roads connecting Rawalpindi and Islamabad, calling first for the federal law minister and now the entire federal cabinet to step down after a wording change in part of the electoral law regarding Khatm-i-Naboowat (finality of Prophethood).
The demonstrations have left the twin cities paralysed, and affected the everyday life and livelihood of citizens in several other parts of the country.
Students and teachers have also been affected by the violence and protests, resulting in the closure of schools, colleges and universities not just in the twin cities, but across Punjab and Sindh provinces as well.
The latest announcement came from the Federal Directorate of Education (FDE), which has order that all educational institutions to remain closed in Islamabad and Rawalpindi on Monday.
"All 423 educational institutions under the administrative control of FDE shall remain closed on Monday," the notification issued by the Director General of FDE said.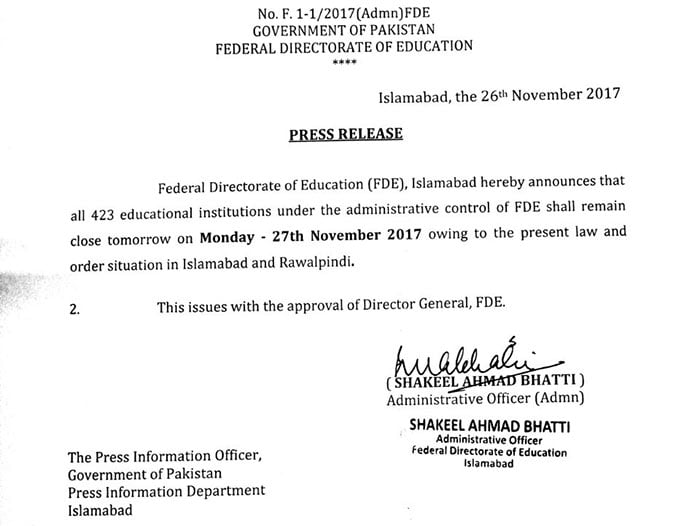 Educational institutes closed across Punjab, Sindh
Punjab Education Minister Rana Mashhood Ahmed Khan earlier today (Sunday) announced that all educational institutions across the province would remain closed for two days in light of the Islamabad operation and the ensuing protests countrywide.
Protesters belonging to a religious group continued to block roads and stage sit-ins in Lahore, Karachi and various other cities after security forces started a failed operation to disperse the Islamabad sit-in on Saturday.
Protests held in Sindh, Punjab, and Khyber Pakhtunkhwa resulted in the death of at least one person and left dozens injured. At least 250 people were earlier injured in clashes between police and protesters in Islamabad, as authorities sought to disperse the sit-in with the aid of tear gas shelling and water cannons.
In Lahore, protests took an ugly turn yesterday when demonstrators set vehicles on fire and blocked major roads including the main Mall Road thoroughfare. They also blocked railway tracks near Shahdara Chowk.
Both areas remained blocked for traffic on Sunday as well.
Similar situation prevailed in other towns and cities across the country, with protesters blocking roads and clashing with law enforcers in Multan, Sialkot, Bahawalpur, Jhelum, Rahim Yar Khan and other areas.